Our full Facility Monitoring Systems are designed to meet your requirements and can monitor many inputs that are important to you, in addition to monitoring airborne cleanliness continuously to ISO14644 Parts 1 and Part 2.
Precision Cleanrooms will work with you to develop your User Requirements Specification (URS), and a part of this will focus on the environmental conditions to be monitored, and so will help us determine the right selection of environmental instruments.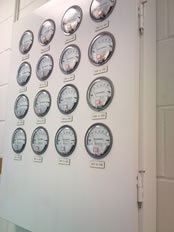 Knowing which parameters are critical, which are important, and which are of interest, will allow us to select and propose the most suitable sensors.
 Sensors and transmitters are selected from our range for measuring:
Room Temperature
Room Relative Humidity
Fridge, Incubator, Cryo Vessel temperature
Room Pressure Differentials
Air Velocity's
Air Volume's
HEPA filter degradation
AHU filtration performance
With a choice of software solutions we can monitor and indicate/alarm parameters in real-time, and also collect and report data in a variety of formats complaint for your regulatory needs.
A good cleanroom, well run, is the most visibly attractive and impressive asset a company can have.