Precision Controls & Automation
Door Access Control
Precision Cleanrooms specialise in the custom design, manufacture, programming, installation and support of the electronics and control systems for access controlled safety and security door interlock and door airlock systems for the Pharmaceutical Clean rooms, Containment suites and Laboratories.
Custom Design: We design modular PLC (Process Logic Controller) and electronic control systems for the door interlock and airlock to meet your specific requirements. We do not lower the specification of your system to meet an "off the shelf" control system.
Electric Locking: We use very secure and reliable magnetic locks to ensure the security interlock, airlock remains secure at all times.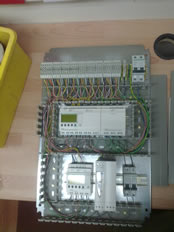 Electronic Access Control Door Interlocks: We can specify fingerprint or proximity access control door interlocks where you need to be 100% sure the correct people are entering and exiting the secure areas, particularly for remote or unsupervised sites or where you need to run a roll call or persons in the area in an emergency for health and safety reasons.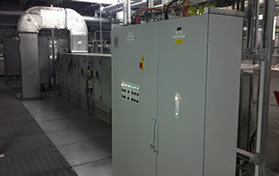 Interlock Systems features and options:
Normally Open Doors, where all doors are normally unlocked - but then lock immediately when another door is opened.
Normally Closed Doors, where all doors are normally locked - and are then unlocked using a 'Door Release' pushbutton or push pad or proximity / fingerprint reader.
Fire alarm lock release built into all systems as standard
Red and green traffic lights for indication of door lock or interlock status
Audible / visual alarm when override is activated and indicating override buttons
Integrated into existing facilities
A good cleanroom, well run, is the most visibly attractive and impressive asset a company can have.